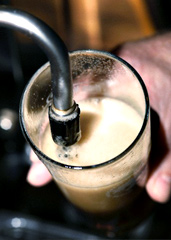 You love Boston.
But every once in a while, you find yourself required to head outside of its elysian fields for reasons we dare not describe here.
Okay, it's usually for beer.
And this time is no exception.
So let's start talking about it...
Presenting
Jack's Abby Brewing
, a new beer-making temple rising up in that hallowed westward land known as Framingham, now open for tastings, tours and growlers.
Brought to you by three brothers raised in the hills of New York (okay, Westchester) and now residing in the Boston suburbs, this is the kind of place you'll want to head into on any given Thursday, Friday or Saturday and belly up to the 12-foot tasting bar for several two-ounce samples.
Among the
beer arsenal
: a
Saxon Sons Pilsner
(basically their twist on a traditional Bohemian pilsner), a citrus-and-hoppy India pale lager called
Hoponius Union
and a black-as-Darth-Vader brew, the
Smoke & Dagger
.
Of course, you'll also want a parting gift. So after you tour the facilities and peek into their brewing methods (feel free to compare with your own), you'll have the chance to leave with one of their 64-ounce growlers to take home.
No, it won't fit in your cup holder.