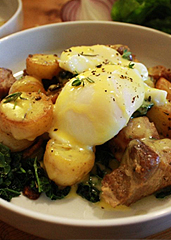 Alas, the weekend's come and gone.
But make no mistake, it will be back... and there will be brunch.
Not just any brunch, but a hangover-blasting, morning-saving spread on wheels...
Welcome the
Brunch Box
, a new four-wheeler doling out pork belly and pancakes near coffee shops like Ritual Roasters, Sightglass and Blue Bottle, slated to rev up its engine this Friday.
Since it's a hangover-alleviating machine of sorts, it's meant to be easy on the eyes—so look out for a truck painted with a row of black-and-white Victorians. But if you're in well-enough shape to get a closer look at the drawing, you'll notice a pimp rooster, a pig robbing a chicken, and a pig with a pistol and a flask.
And suddenly, you're hungry for bacon and eggs...
Head to the side of the truck and choose from a half dozen different dishes made to order by a Le Cordon Bleu–trained chef:
Ricotta Pancake Souffle
, brioche croque-madame, but especially the beer-braised
Pork Belly Hash
.
It all comes boxed up, so whether you eat it right there, at the coffee shop or back home really depends on your tolerance for sunlight and other humans.
And before too long, you'll probably start seeing the truck at cafés by day and bars by night.
After all, it's always brunch somewhere.