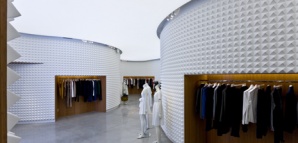 You've been busy.
Phillip Lim understands.
Realizing it's getting harder and harder for you to reach his stores in New York and Tokyo, he's thoughtfully opening
3.1 Phillip Lim
, the third and largest of his empire, right here on Robertson Boulevard this Friday.
Far removed from the paparazzi playpen further south, the Kubrickian shop resides near fellow Melrose-adjacent newbies
Steven Alan
and
HLNR
, forming a new sartorial trifecta that makes your life a bit more attractive. Inside 3.1, you'll find 5,000 square feet of undulating foam spikes (touch 'em, they're oddly soft)—used in recording studios for their acoustic properties, used here to absorb bad style, presumably. Behind the spikes, there are small rooms, smaller cubbyholes, mirrors that are actually cabinets, fake skylights, real skylights…and the occasional burst of clothes.
Here you'll get classic basics with a modern twist: both polished grey blazers and ones made of denim, cardigans that appear to have built-in shirts, and Lim's crisp, well-cut button-downs, which might have a collar that slyly folds under itself, or a subtle stitched-in happy face. 
Think dapper and eye-catching from afar, clever and touchable up close.
In other words, clothes that suit the man.