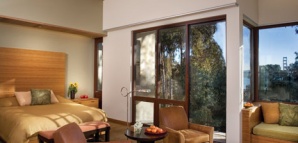 A good lodge is hard to find.

So when they cut the ribbon Saturday on the Golden Gate National Parks' new lavish eco-lodge, Cavallo Point, we smiled. And then we packed.

Now open, Cavallo Point is really the first luxe hotel with in-your-face, right-out-your-window views of the Golden Gate Bridge, which, as you know, is saying something. It's set at the Bridge's north end, where the Bay meets the Pacific, in elegantly rustic Fort Baker, an 1866 U.S. Army Post-turned-getaway. You can even book a renovated officer's quarters, but we say go for one of the new hilltop suites, complete with private porch, radiant-heat floors and floor-to-ceiling windows that frame killer Bridge views.

You'll do most of your socializing at Farley Bar, with its wine cellar's 13,000 bottles to keep you occupied. If you're bringing a date, arrange your Murray Circle dinner reservation early, and while you're at it, request the two-top in the corner by the fireplace—it's the most romantic spot in the house.

And don't leave the grounds without a tandem massage.

Because you've never been rubbed down until you've been rubbed down by four hands.