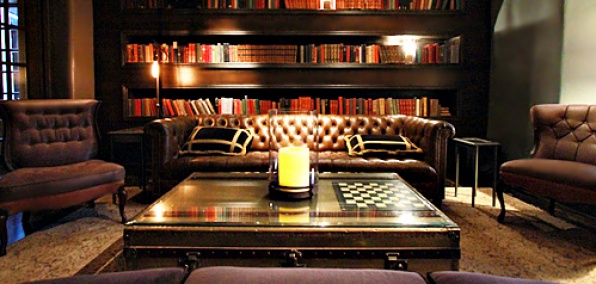 On Friday, we gave you good reason to go north:
bacon-bourbon apple pie
.
So today, we'd like to turn your attention south.
To inhaling absinthe vapors from a flaming snifter poured tableside...
Welcome
Restaurant 1833
, an ambitious, two-story mansion of a restaurant with a flashy bar that rivals what you'd expect to find in Las Vegas, now open in downtown Monterey.
The building dates back to 1833—it once housed governors as well as the state's first newspaper press—and feels like a homey adobe mansion. There's a massive tufted leather sofa in the library, fireside stacks of old books and a back patio with centuries-old oak trees and fire pits.
Call ahead and reserve a table in the Founder's Balcony upstairs by the smaller, somewhat secret bar that overlooks the apothecary-esque main bar below. Since a Per Se vet helms the kitchen, try the
Horseradish Crusted Bone Marrow
and
Roasted Lobe of Foie Gras
.
But back to the fiery absinthe... Basically, they'll roll the designated cart to your table, walk you through the 15-plus stash and ask if you're a traditionalist or an adventurist. Go the adventurist route and get yours Russian-style.
They'll light it on fire and pour the blazing absinthe into a glass of orange juice, like a flaming waterfall. Then they'll cup the empty snifter over a napkin and lift it enough for you to inhale the vapors before drinking the absinthe OJ down. Then, and only then, will you exhale.
Practice makes perfect.