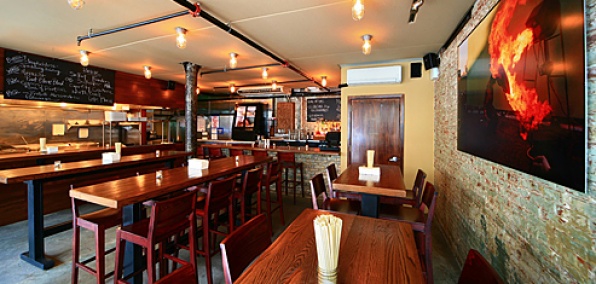 A man walks into a bar.

The bartender says, "What'll it be?"

The man replies, "Sake." And then turns to page 21.

Actually, hold up. The man replies, "Beer," and turns to page 33.

Wait, we changed our mind. But that's okay...

Presenting Momofuku's Choose Your Own Adventure Dinner, an exclusive Ssäm Bar Bar tasting menu that's unfolding exactly like the classic books... only with significantly more pork buns, happening tonight.

Finally, the moment's come to take control of your destiny. Or at least determine what you'll be drinking with your five-course, David Chang–approved feast.

So you'll reserve one of the limited spots at Bar Bar (Ssäm's newish cocktail annex in the former Milk Bar space that's so nice, they named it twice), and for the duration of the meal, take on the very role you were born to play: Head Beverage Director of the Momofuku Empire.

At 6:30pm prompt, plates of rotisserie lamb, pickled PEI mussels and hoisin-glazed pork buns will begin to arrive. For each course, it'll be your job to sample and vote on the proper libation pairing. Candidates may include scotch ale and a shot involving audience participation.

Should you be unable to do your civic duty tonight, rest assured that Ssäm has an entire series of intimate dining events slated for the summer.

So no need to request an absentee ballot.