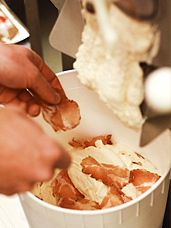 This heat.
Dense and thick, like a layer of hot cling wrap constantly attached to your body. It's enough to give you flashbacks of 'Nam (or at least
Platoon
).
You deserve something cold, sweet and delivered from a place where the atmosphere is still pleasant.
We're thinking the Pacific Northwest, too.
Presenting
Salt & Straw Ice Cream,
a new delivery service bringing you authentic Oregonian ice cream right to your door, available now online.
First of all, we know: New England is no slouch when it comes to ice cream. And more often than not, it's readily accessible at your local grocery store (at least, that's what your butler has led you to believe).
Having said that, think of this as your direct line into the heart of Portland's favorite ice cream purveyors. Among the body-heat-lowering flavors:
Brown Ale with Bacon
,
Pear with Blue Cheese
and
Stumptown Coffee with Cocoa Nibs
.
You'll also be happy to know that all of the ice creams use ingredients from local Oregon businesses—so that bacon you're enjoying comes from Olympic Provisions in Portland, the blue cheese hails from Rogue Creamery in Central Point and the fruits are harvested from Oregon farms.
We're not sure where the tubs are made, though.