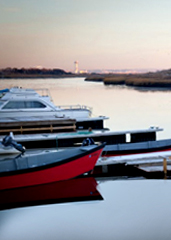 Medium popcorn. Large Cherry Coke. Box of Junior Mints.
The tried-and-true movie theater essentials.
Though just this once, you may want to bring an anchor and life preserver, too.
Welcome to the
Boggsville Boat-In Theater
, a floating movie house in Far Rockaway that's showing aquatic-themed flicks on a big screen in the middle of the bay, now playing.
Think of this as a coming attraction for what the movie date will look like after the polar ice caps melt. More specifically, it's a makeshift drifting platform that screens films every Thursday through Saturday for an eager, seafaring audience. And the occasional curious mermaid.
So you'll load up a cooler with beer, dust off your favorite captain's hat and set a course for Marina 59 on Jamaica Bay. When you pull into port, you'll notice a motley crew of crafts all moored together into a single cluster. That... is your Cineplex.
The movies here are free (donations are welcome) to any vessels in the area, but if you're seeking permission to come aboard the flotilla (and get a better view of the screen), you'll want to
email ahead
and reserve a spot at the dock.
Or try to rent one of the refurbished boats in Boggsville's fleet for an overnight stay.
Perfect opportunity to join the Sea Level High Club.