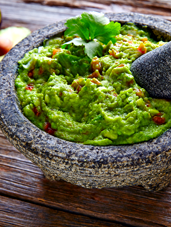 Meet Richard Sloven.
He's new in town. Just moved here from San Francisco.
His interests include music, bartending and hanging out with friends.
Also, at night, he transforms into a guacamole superhero.
Introducing
Gorilla Guac
, a mysterious renegade street vendor who roams around Brooklyn after dark dishing out justice... in the form of free mashed-to-order avocados and homemade tortilla chips, available now.
In many ways, this is exactly like one of those elaborate, tableside guacamole preparations you might find at a Mexican restaurant. The key differences being the table's actually a folding bridge table and the food's free.
See, Sloven is a true throwback. The last of a dying breed. He mixes every batch of curbside pico de gallo, ripe avocado, salt, sugar, lime and jalapeño strictly for the love of the guacamole. If you feel like paying for your chips and dip, that's your call. Just remember karma can be a cruel mistress. And avocados are crazy expensive these days.
As you might expect, the Gorilla Guac operates strictly in the shadows (or out of the Williamsburg Knitting Factory for trivia night on Wednesday). So finding him can be tricky. You'll either want to
track his whereabouts on Twitter
or buy a ticket for the guacamole-themed cruise he's helming on Monday.
Maritime law strictly forbids double-dipping.