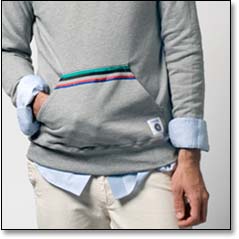 Band friends are notoriously difficult to shop for, because they're so hip and, in many cases, vehemently anti-gift card.
But starting this weekend, there's a place where you can please pretty much every rocker in your life:
Built by Wendy
, opening tomorrow in the Mission.
Owner/designer Wendy Mullin made a name for herself in the '90s crafting quirky guitar straps for musicians, eventually outfitting bands like The White Stripes, Arctic Monkeys and Sonic Youth. Today her rad collection of straps, available online, includes designs with plaid, stripes, ultra-suede, canvas and tweed. (They're all leather-tabbed and adjustable in length—which got us thinking, why limit these babies to the guitar when there are so many satchels and messenger bags in the world?)
And while this store—Mullin's fourth, after New York, Brooklyn and Los Angeles—contains little in the way of musical-instrument accessories, there's plenty of what you might call rock-friendly clothing, from indie-looking jeans, chinos and corduroys to hoodies, T-shirts and collared short-sleevers. The T-shirts, incidentally, would seem to be overpriced if it weren't for the fact they feature sketches of off-the-grid movie stars like Stacy Keach, Gene Wilder and Timothy Hutton.
All of which could probably get a conversation going, onstage or off.