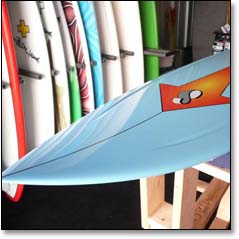 It's not that you're afraid to commit. You're just afraid to commit to something that might not hold up when the waters get a little choppy.
We're talking, of course, about surfboards. And how a new service,
SportsKnack
, helps you conquer the waves on a rotating series of top rides.
Think of it like Netflix—but for actual surfing, not couch-surfing. Just browse the selections online, flag the one you'd like to keep for a few days, and when you're done sampling its epic-ness, trade it in for the next beauty you've got your eye on. They won't ship it to you (postage is less reasonable for surfboards than for the Megan Fox oeuvre), but just call them when you're on your way to the warehouse and they'll be ready to load it onto your car when you arrive.
As for the selection, SportsKnack has everything from a tight-turning Futura to a Laird Hamilton paddleboard. And if you eventually do find yourself in the mood to settle down and spend your life with that one special board, SportsKnack won't let you keep theirs, but they will point you in the right direction.
Until then, keep playing the field…as it were.