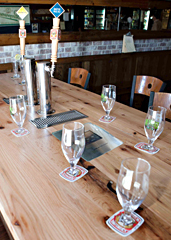 Change can be hard.
Or it can be easy.
Easy like never waiting for a drink at a bar again...
Behold: the
TableTender Beer Tap Table
, a hybrid wooden table equipped with two beer taps and a tracking monitor so you can pour your own beer for hours at a time, available for reservations now at the Mad Dog in the Fog.
The whole experience is almost like having a small bar within a bar all to yourself. And while there's a little bit of technique involved, we think you're up for the challenge.
It works like so: you and at least seven friends reserve the table by the hour (or by the event) and agree to a two-drink minimum—infinitely more reasonable than a two-drink maximum—that's constantly tracked via digital readout.
When you arrive, they'll enable the taps (right now the selection is Widmer Brothers Hefeweizen and Drifter IPA), rope off the area to give you more elbow room and leave you alone to tend bar and dole out beers however you see fit.
Remember: keep the foam at a minimum.