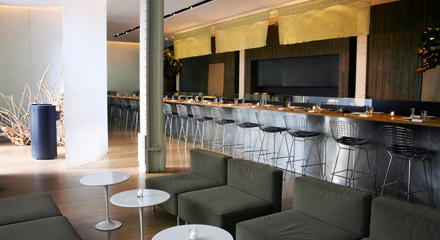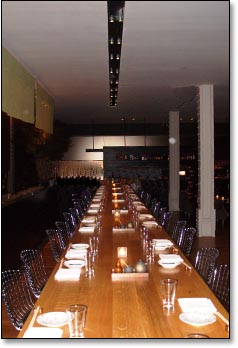 You can't keep a good man down for long.
He's opened restaurants from Singapore to Minneapolis, but lately Jean-Georges Vongerichten has been remarkably quiet as far as New York is concerned. But no longer. After spending some quality time in Tokyo—and picking up a few new tricks—the master chef is finally coming back to the city that made him.
Allow us, then, to offer the first peek inside the long-awaited result:
Matsu Gen
, Jean-Georges' triumphant return to the New York scene, is now open.
The specialty this time around is noodles: That means house-made soba, hand-rolled in the back room and served hot or cold, paired with anything from giant prawns to grated yam to the (rather unfortunately named)
Sea Urchin Bukkake
. In other words, there's enough here to make it worth the wait.
The space keeps the sleek understatement of former resident 66 intact, including an aquarium filled with some of 66's old fish that doubles as a window into the kitchen. There's regular seating alongside the fish for entertaining your associates from the Tokyo branch, but if you're hitting the town, we recommend the communal table a little farther down the wall. That way, you and your noodle-loving date can soak in the ambience with more than just fish for company.
And, of course, no soba spot is complete without a dedicated soba instructor whose sole purpose is to give you tips on proper slurping form.
In case your slurping is getting a little rusty.