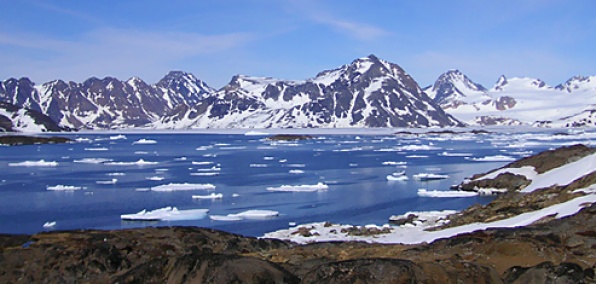 So. Summer's dog days are fast approaching.

Preparation, as you know, is essential. Mapping every public walk-in freezer in a 13-mile radius: a good start.

But we think you should consider a more far-flung plan to escape the scorching heat—one that begins just shy of the Arctic Circle.

Allow us to present Trekking in East Greenland, a 13-day sailing, camping and, yes, trekking trip across Greenland's icy summer landscape, taking reservations now for a mid-August departure.

After this journey, you'll be able to write your own Nordic saga—but with more helicopters and fewer horned helmets and musk ox loincloths. (Though there'll be some of those, too.)

The story begins with you choppering into Tasiilaq, a tiny fjordside harbor town perched on Greenland's southeastern coast. A team of support staff (meaning the porters who'll be setting up camp) and your guides (veterans of the region's extreme Arctic Team Challenge) will meet and debrief you. Spoiler: there will be icebergs.

You'll spend the next eight somewhat strenuous days traipsing the island of Ammassalik, traversing Mittivakkat Glacier, testing your sailing mettle in iceberg-strewn fjords, exploring remote fishing settlements and otherwise pretending you're Erik the Red. And upon your return to Iceland, you'll soak your weary frame in the Blue Lagoon—the thermal springs, not the one made famous by Brooke Shields.

Consider changing out of the loincloth.