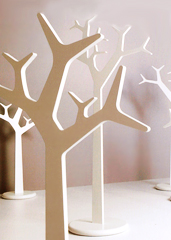 Summer project: turn your abode into the equivalent of a Hollywood lounge.
Step one: build out the VIP room. We're talking antlers, engraved champagne glasses and some wallchairs.
Step two: actually, just stick with step one.
Introducing
Huset
, a new house of modern Scandinavian design-y stuff to upgrade your sweet home LA for the summer party season, now open on Abbot Kinney.
Now, you don't really need help with the wet bar situation. You're covered there. But since every respectable LA nightspot needs to reinvent itself every few months to stay relevant, this modern white space (the name literally means "the house") is where to go to take your would-be VIP lounge from standard house party to... Scandinavian summer pool party 2047.
You'll find tall swimsuit racks for out by the pool—they look like trees, if trees were painted white and in a museum. (Some might call them coatracks, but whatever.) And while you're there, you might want some antlers that double as bottle openers, sleek seats that'll fold down from the wall at the edge of your dining room/dance floor (the aforementioned wallchairs) and maybe some giant red iPod speakers that'll create a crisp wall of sound that may or may not be audible in Laguna.
Wouldn't be a party without wallchairs.