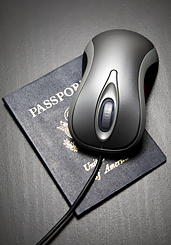 You've got friends in attractive places.
Vienna, São Paulo, Saint Martin—it can be downright confusing keeping track of them all.
The good news is you won't have to suffer under this terrible burden any longer.
Introducing
Twalaba
, a site that tracks where your friends have settled down and how much it'll cost to visit them, online now.
Here's how it works: sign in via Facebook, and you'll see a map of all your friends' cities, along with the price of a plane ticket to get there. So when you're weighing a visit to your old college buddy in Malibu or your cousin's luxury yurt in Mongolia, you'll be able to choose which one to tackle first.
Of course, you would prefer not to fly anywhere that requires an overcoat, so you can also enter in a preferred temperature and sort your friends' chosen cities by climate. (Your acquaintances in Texas may have to wait.) And if there's a sudden plunge in the price of tickets to Tahiti, you'll get a friendly email reminder from the site.
You'll want a packed bag ready, just in case.