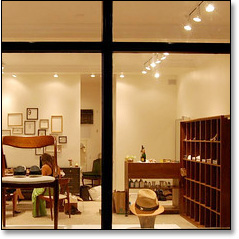 Dressing up has always been a double-edged sword—you want to be polished but not boring, eye-catching but not...Charles Nelson Reilly.
Dance on the blade with laughable ease at
Apartment Number 9
, the hip but refined new men's shop now open in Beverly Hills.
The small, bright store is one of those places that seems like there's almost nothing for sale inside, until you realize the stock is so well-edited that you can upgrade your wardrobe with pretty much anything you see, rendering towering piles of shirts unnecessary. Among the rare and edgy-but-dapper goods, we're partial to the suits from Band of Outsiders, the Seize sur Vingt button-downs in Egyptian cotton, the backyard-barbecue-friendly hats from Eugenia Kim and a few striking pairs of modernized topsiders (Band of Outsiders again, for Sperry).
If you're more in the market for sartorial role players, you'll also find vintage typewriter-key cufflinks, retro eight-fold ties and some necessary basics like monochrome T-shirts and polos. But in an extremely bold move for an LA clothing store, you
won't
find any denim.
Sometimes fashion favors the brave.