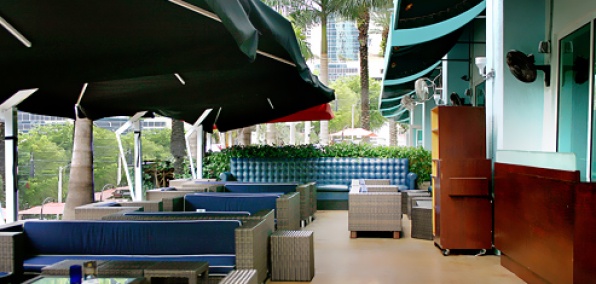 You never know where the week will take you.
Who knows—this Friday you could be dancing the bachata until dawn at one of Bogotá's hottest clubs.
Also: this could be happening on Brickell.
From the ambrosial land that gave the world Shakira and Sofía Vergara (yes, Colombia) there's
Kukaramakara
, a sexy, hip-shaking club now open near Mary Brickell Village.
You may already be familiar with the multisyllabic name (friends call it Kuka) and its legendary live Latin music lounges in Bogotá and Medellín. This spot—the second in Miami—is located in the former JB Kitchen space. They haven't changed much—white leather banquettes, huge center bar—but now there's a massive stage at the back from which salsa and merengue bands boom forth on the weekends.
During the week, the scene is low-key enough that you'll come here for lunch with work friends, stake out a table on the outdoor patio and summon arepas and churrasco.
But come the weekend, things get considerably more... hedonistic. You'll dance with Colombian expats. Bottles of
aguardiente will be consumed (the anise-flavored drink translates as "fire water" for a reason). Pretty soon, it's 4am and you're guiding a gaggle of Telemundo starlets to the 24-hour hot dog place down the street.
Spanish actresses love extra relish.