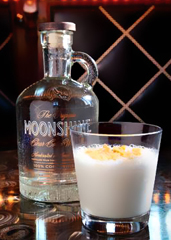 You've long had a soft spot for cereal.
Sugar-coated flakes. FD&C Red #40. Tony the Tiger sharing jump rope tips.
It all seems so innocent.
It was only a matter of time before someone added... moonshine.
Introducing the
Noah Ellis #48
, an off-menu milk, moonshine and cornflake cocktail that's your new breakfast of (blackjack) champions, available now at First Food & Bar.
This is the Vegas-ized version of the most important meal of the day: a short glass with cornflakes suspended in malted milk ice cubes floating atop a layer of frosty malted milk foam that's been laced with 80-proof corn whiskey. It'll remind you of drinking the super-sweet milk at the bottom of your cereal bowl, soggy flakes included—if you happened to take a swig from Grandma's bowl by accident.
So while reaching Zen-like levels of calm before a big day at the tables, head to First, concentrate on this cocktail and let the firewater loosen up the gears a bit. Maybe try to think about the cereal box mascot—a toothless hooch runner in the Appalachian backcountry, perhaps—or the drinks you'd need to add to make a square early-morning meal.
You're still waiting on that omelet-flavored gin.