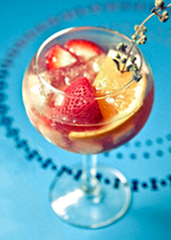 Seems like you tried every drink from every list in the city this weekend.


Which was a monumental feat, so kudos.
But we have one more boozy situation you might want to quickly investigate...
Introducing Carny-Themed Cocktails, a collection of drinks bringing together a potent mix of old-school candy and alcohol, available now at Straw.
While you enjoy a good, stiff martini, you've never been one to take your cocktailing too seriously. So a Sangria Slushie should seem perfectly normal. Same with the Big Dipper—a strawberry, basil, lemonade and vodka blend rimmed with Fun Dip (okay, maybe not normal).
After a few rounds, you'll notice a good, steady buzz. Which could either be from the Sabé (a locally made vodka and sake blend) or your mounting sugar high. Either way, you're not backing down now, so look for the Da Fish in Sea, a riff on the scorpion bowl garnished with a school of Swedish Fish.
Or you could go off-menu (code name: Lost at Sea) and try it in the one-gallon goldfish bowl. Technically, it'll serve eight.
The Germans have boots; you have a fish tank...