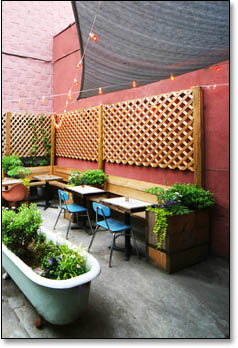 We don't make the trek to South Slope very often, but when there's BYO history being made, we can't stay away. 
Take a look at 
Quarter
, a humble neighborhood bar that's just stumbled onto one of the most brilliant strokes of genius we've seen in a while: Bring Your Own Meat, or BYOM (think BYOB, but...meatier).
Struck by divine inspiration, owners Joe Herron and David Moo rolled a three-foot charcoal grill into the back of their drinks-only bar and are now taking in grill-pilgrims from all over. Which means this is your chance to grab that 32-ounce LaFrieda Porterhouse you've been saving, a few fresh lobsters or even a rack of lamb
from Jeffrey's
before you head out for the night. (A word to the wise, though: The joyless automatons at the Department of Health may bring the hammer down at any moment, so grill it while you can.)
And while you're waiting on those
lobster tails, the Quarter folks have cocktails to keep you busy. (This is a bar, after all.) There's the usual Pimm's Cup and Dark & Stormy, but also a few more adventurous choices like the basil-heavy Plantation and the house-created Greenport Cooler, a summery mix of potato vodka, cucumber, lemon, mint leaves and grapefruit juice.

Just so you cover all the food groups.