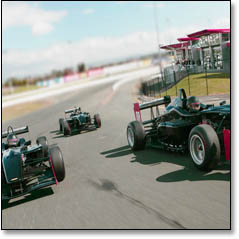 Life in the office doesn't always get your blood pumping the way you want it to, and the hills (and officers) in this city don't allow for much unbridled speed.
So we found a place where you can open up your engines, as it were: the re-engineered
Jim Russell Racing Drivers School
.
The school isn't exactly new: Fifty years ago, Russell, a former British Formula 1 driver, created the concept of a formal education for race-car driving, setting the standard for racing instruction and turning out champions like Indy 500 winner Danny Sullivan and scruffy NASCAR god Tony Stewart.   
But this spring, the hallowed training grounds—aka, the Dom Perignon of Racing Schools—got a new owner, tweaked its name and unveiled $10 million in renovations, making it a must-see place for anyone interested in stress relief. A few of the reasons to check it out:
New cars.
Russell just received a fleet of 30 exclusive, specially commissioned English-built FJR-50s, making it the only racing school in the world to use Formula 3-based race cars.   
New campus.
A fresh 14,000-square-foot trackside campus at Turn 1 houses a technology center, multimedia theater, locker rooms and a café with artisanal foods (because nothing prepares you for racing like locally sourced cheese).   
Tough track.
You'll train at Sonoma's Infineon Raceway, one of the most famous—and most difficult—tracks in the world: 2.52 miles, 12 turns and several tricky elevation changes.   
Efficient curriculum.
Maximizing your time in the seat, Russell offers one- to three-day courses, and its two-day group course will even qualify you to compete in professional regional competitions.
Which provides quite a good answer to the question, "What did you do this weekend?"