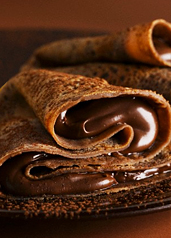 Snack attacks.
They come hard, fast and without warning.
Fritos, pizza, even the occasional street pretzel does the trick. But once in a while, all you really want is a sizzling hot crepe.
And if it could be centrally located downtown, that would be great.
Introducing
Doré Crêperie
, a six-month pop-up house of made-to-order crepes and Nutella smoothies, slated to open this Monday.
So say you skipped your normal Pop-Tart start to the day. Well, until Doré packs up in December, you can swing in before work and land a strawberry, blackberry, blueberry and yogurt–stuffed breakfast crepe to get you going (right after a double-espresso equalizer).
Then again, since they're open for lunch, you and a few work compadres can grab some of the 16 seats (go for the ones looking out onto Tremont Street) and dig into a few
Prosciutto, Blue Cheese & Fig
lunch crepes.
Of course, no house of crepes would be complete without a little Nutella. Go for the
Nutella, Fluff & Crumpled Graham
crepe, or just chase all the Frenchness down with a citrus- and yogurt-based Nutella smoothie while heading back to work.
Or not heading back to work.