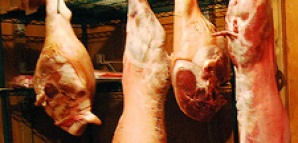 We heard you had remarkable skills in the kitchen (always a plus with the ladies).

But even connoisseurs like yourself have areas upon which they can improve if they hope to achieve full Renaissance status.

Like, say, their butcher techniques.

Introducing Butchery Class at Avedano's Meat Market, taught by co-owner Tia Harrison, who also happens to be Executive Chef at Sociale.

In this private five-hour intensive—which only happens a few times per year, and only admits six students per session—you'll tie on the hefty butcher's apron and break down entire carcasses of prized meat, including a straw-fed pig from Bailey and James and a pastured lamb from Sonoma.

Under Harrison's attentive (and attractive) tutelage, you'll learn how to delineate, separate and classify the different cuts, from the chop to the tenderloin to the ham hock. You'll also pick up new skills with the blade and, when class lets out, take home a few of the prime cuts you just sliced up—all of which will ensure the next time you enter a butcher shop, you'll have more confidence than the foreman who had to let Rocky go halfway through Rocky II.

And ask any woman, that guy was sexy.