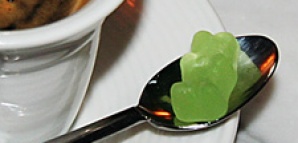 Even in a city with a virtually limitless array of dining options, some dishes are way too good to miss—they demand immediate consumption. Every month, our feature Served Up gives you the lowdown on a standout dish in the city. Dig in.

Hearing the phrase "absinthe cocktail" may not get your heart racing anymore, but a new gummi bear recipe is always good for a palpitation or two.
After months in the kitchen tinkering with gelatin and various liquors, the
Tailor crew
has finally channeled the wormwood concoction into something everyone can agree on. Feast your eyes on the
Absinthe Gummi Bear
, the final word in alcoholic confectionary bears.
That's right, your favorite recently legalized, possibly hallucinogenic liquor has finally made it into ursine gummi form, fresh from Tailor's in-house candy shop (aka, mad scientists Sam Mason and Eben Freeman). You'll mostly taste licorice—it's really the anise in the absinthe—but this gummi is smarter (and boozier) than the av-e-rage bear. It's 85% absinthe, with just a touch of gelatin and sugar added to keep things solid.
Of course, moderation is crucial, so rather than giving you a sack full of the bears, Tailor gives you a single Paddington, perched on a spoon alongside a cup of espresso. (That also means you won't have to ask for the bear; just order an espresso.) Saunter in after eleven and try the new after-hours menu, with savory treats like the 
Pulled Duck Sandwich with Kumquat Relish 
that act as the perfect lead-in for your new gummi dessert.
You won't want to take on a beast like this on an empty stomach.