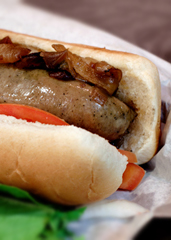 Weiner.
Yes, okay. Ha. Admittedly, a name that's had a very tough week. Tougher than usual.
Now, for the inevitable rehabilitation. Presenting Heat, a late-night sausage sanctuary open in Wicker Park, ready for your post-club dining needs.
First, you must be wondering about the marketing genius who opened a sausage place called Heat during this record-setting temperature spike and congressional Weiner scandal. (The timing's too good to be coincidental.) You won't be surprised it's a onetime personal chef for perhaps the all-time greatest hype man: Diddy—back when he was Puff Daddy. In other words, assume this guy understands your after-hours cravings.
Here's the scenario. It's very, very late. You've been out... doing things (doesn't matter what) with people (doesn't matter who). The point is you regret nothing. Before heading home, you need one simple thing (and this part matters): a Pheasant & Cognac sausage.
So you'll find yourself in a basement under Flash Taco. The tables are sort of funky—topped with images of the solar system. The music videos: also funky (we fully expect a Diddy-Dirty Money marathon). In addition to Duck & Orange, Elk & Pear, Wild Boar, possibly a foie gras dog, you'll want to take note of the beef dogs, beef burgers and beef bacon. Also, know that Heat delivers until 4:30am on weekends.
Always keep your beefs private.