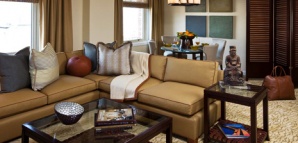 As everyone knows, you coined the term "staycation" in the late '90s.

And at the time, you said this: "The key to a successful staycation, of course, is to spend at least one night in a truly special place, a place suitable for a Kennedy."

We finally know what you mean.

The Mulholland Suite at Huntington Hotel is fresh off a redesign, and open for reservations. It's got a lot going for it: rugged, leathery, spatially liberal.

JFK, Jr., and wife Carolyn stayed in this dual-room hideaway at the top of Nob Hill, and that was before the facelift. Now it's filled with the luxe leathers and rich materials of Mulholland Brothers, makers of those luggage pieces and golf bags you like to tote around. In many ways, the suite feels like you're wrapped in a huge, sensuous man-purse, and we mean that in the classiest way possible.

Stretch out with a novel or companion on the L-shaped sofa, crafted from the same cotton canvas used in Mulholland's distinctive bags. Adjourn to the bedroom, to relax under leather-trimmed wool blankets with a mini bar-prepped cognac in hand.

When it's time to leave, you won't go empty-handed. Parting gifts include a Mulholland money clip, a corkscrew pouch and a sportsman's flask.

Giving you a friendly nudge toward your next grand idea: the work-cation.