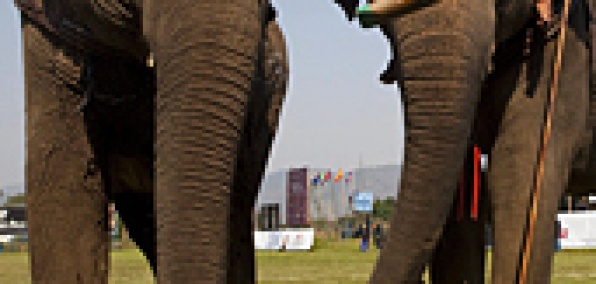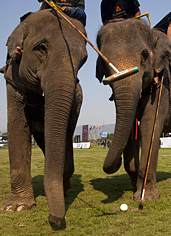 It's finally here.
That's right: polo season.
So it's time to get your mallet, jet to somewhere exotic and prepare your trusty steed.
By which we mean an elephant.
Presenting
Elephant Polo
, a slower, beer-friendlier, slightly more lumbering version of the sport of kings that you can play on the grounds of the Taj Jai Mahal Palace on your next trip to Jaipur.
It's basically your standard game of polo, but with a few simple rule changes—there are now two 10-minute chukkas, a quick IPA-heavy intermission, a shorter field and... well, you're on an elephant.
You'll have the help of a
mahout
, basically a driver for your elephant. He'll sit in front of you and guide the elephant according to your every direction, while you handle the mallet (around nine feet long) and plan the tactical strategy.
After you've had enough training, you'll be ready to head to Nepal for the world championships. (Leave room in your suitcase for bringing home the gold medal.) But before you go, you can wander around the palace's 260-plus-year-old grounds—replete with an in-house astrologer and human-sized games of chess.
The elephant gets first move.