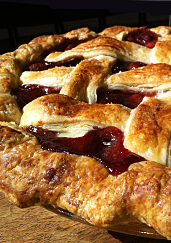 Welcome back to Friday.
Good things are in store.
Actually, not in store. At your house.
What we're trying to say is there's about to be some pie at your place.
Introducing
Pie Subscription at Three Babes Bakeshop
, a just-launched delivery service running homemade pies to your home or office every Friday, taking orders now.
Think of Three Babes as your personal baking team, with insider access to the best handpicked fruit around, delivering your pie in a real pie plate (for that extra homemade touch). And while you could stop by their weekend pop-up bakery (fashioned out of a refurbed shipping container at the Stable Café), your subscription means you'll get your pie a day early (Friday instead of Saturday)—as well as access to off-menu specialties.
All you have to do is choose the frequency of delivery (weekly, every other week or once a month). Then decide whether you want to experiment with off-menu desserts and customizing your order, or just leave the pie selection to them (at the end of the day, it's hard to go wrong).
Either way, you're in good hands with upwards of a baker's dozen fruit, custard, chocolate and even savory options. They've got your traditional nine-incher in strawberry-rhubarb, apple and cherry, all the way down to the house specialty of
Salty Honey Walnut
in a mason jar.
You should know that they're using heirloom recipes handed down from multiple great-grandparents, including a great-grandmother in East Texas and a great-grandfather who traveled as J.P. Morgan's personal pastry chef.
Making this a solid investment.