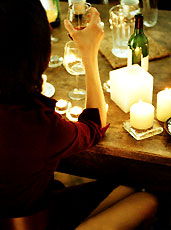 Your dates have been epic lately.
And considering you got the Pops to play in your flat for your last date, you need something big to keep the epic-ness alive (getting Keith Lockhart to cook was clutch, by the way).
Try this:
Anemochory
, a brand-new underground dinner series beginning this month, accepting requests now for June 28.
Here's the skinny: first,
sign up
in order to learn the menu and the location (after intense interrogations with the organizers, we can reveal that the first one will be somewhere in Brighton). You'll be given three options—vegetarian, vegan and meat lover—and all three will include 100% locally sourced courses (think: from-scratch tofu, local fish, responsibly farmed fowl, maybe even a rogue duck).
Once you arrive at the clandestine location, there will be 45 minutes of mingling over passed hors d'oeuvres and wine, as well as some live entertainment (yes, that means classical harpists). Then, you and your date will be seated with about 60 other guests at communal tables, where the organizers will discuss the courses and the wine.
And no two experiences will ever be the same, either by menu, design or location. Maybe it'll be on the Vineyard, maybe it won't. Maybe it'll be in a slick loft, maybe it won't.
Maybe you'll need to utter "Fidelio" at the door, maybe you won't.