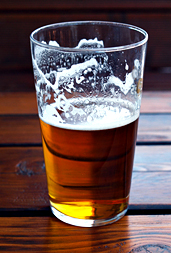 So, the world didn't end Saturday.
But it did get us thinking. Maybe we're not maximizing our lounging and drinking opportunities to the fullest.
And like that, an old standby resurfaces...
Welcome back
Place Pigalle
, a two-room lair for drinking draft beers and playing eight-ball, reopening tonight in Hayes Valley.
If you frequented this mellow watering hole over the years, you know the scene: low-key vibe, pool table, stockpile of PBRs. That's all still there.
Only now, you'll have more time to take it all in, because they'll open at noon (starting next week). So no matter what time of day you come in, you can get a pint of Guinness or one of a dozen microbrews and four small-batch wines on tap.
You could cue up for a gratis game of pool, or slide into one of 10 sofas spread throughout the bar. If you feel like watching the Hayes Street foot traffic—and want easy access to the copper-topped bar—opt for the black leather sofas by the window.
Oh, they've also inked a deal with Charlie Hallowell of Pizzaiolo fame to make bar bites on this side of the Bay.
All dive bars should have Chez Panisse vets on the payroll...