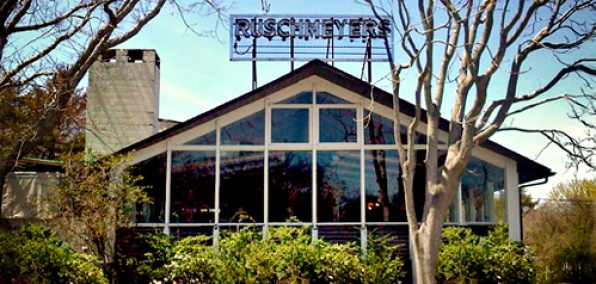 Eventually it'll stop raining.
We think.
But right now, all we can really do is perform an ancient Aztec sacrifice to the sun gods... and find you a proper hammock in the Hamptons. Where the forecast calls for something slightly more jort-friendly.
Introducing Ruschmeyer's, a Montauk lakeside retreat with an upscale sleepaway camp vibe and a lenient policy regarding late-night bikini raids, brought to you by some of the Surf Lodge guys, reservation lines opening Monday.
This should be the first stop when scouting locations for that passion project you've been working on, Wet Hot American Summer 2: Look Who's Montauk-ing. After all, the swimming pool turned sandpit turned outdoor beer garden is exactly the kind of set piece your climactic coming-of-age/color-war scene requires.
You'll book a newly renovated nautical-themed "cabin," and head out east for the kind of weekend that works best with minimal counselor supervision.
During the day, you'll busy yourself with activities like bocce ball, kite surfing and laying low in an elaborate treehouse with a surplus supply of the resort's proprietary ale.
At night: you'll dine in an outdoor mess-hall-esque garden on dock-fresh fish and maritime cocktails from our good friends at the Fat Radish. Later at night: dancing at the Electric Eel disco. Even later at night: well, that's when you'll head into the woods for a punch bowl and a drum circle.
Which reminds you of that one time... at band camp...