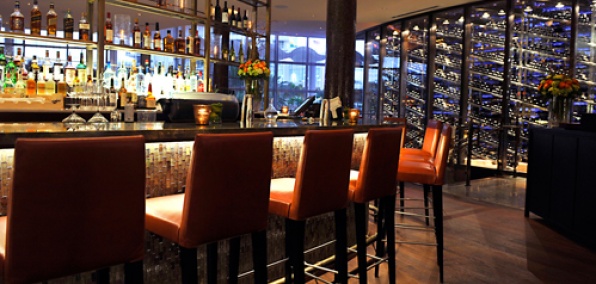 Let's discuss your options for late-night lamb sausages and bourbon cocktails in mid-Beach.
...
Right.
That's what we thought. There's a void there.
Consider it filled.
The Lounge at Gotham Steak
, a polished den of DJ-enhanced, fancy comfort food, is now open at the Fontainebleau.
What was once a two-tiered steakhouse at the mega-hotel has transformed into two venues—the lounge, now the area where you walk in, and the formal dining room, which you can find downstairs.
Today we're focusing on upstairs. Here you'll find Gotham's swanky bar in all its glowing-glass and mosaic-tiled finery. There are still tables, sure, but they're peppered with leather couches, where you'll start or end your evening with a
Bourbon Smash
made with muddled oranges and lemon.
If your date wants something hearty to go with that
Fireflower
(gin, habanero syrup, pineapple juice), you can summon a round of
Grilled Spicy Lamb Sausages and Maine Lobster Rolls
with sides of truffle fries and bacon-topped mac and cheese.
And if you're in the mood for the live DJ action of LIV but still want to be able to chat with your date over
Vidalia Onion Rings
, you'll be glad to know there's an in-house turntable maestro spinning conversation-friendly music Wednesdays through Saturdays.
Tuesdays, you're on your own.