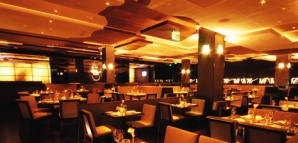 Like that "friend" of yours who dates a different woman every weekend, Vegas has a ravenous appetite for change.

One of the few constants: a ravenous appetite for steak.

Introducing, then, its latest (oversized) prey—BRAND Steakhouse & Lounge at the Monte Carlo, soft opening this Saturday night.

We envision you using BRAND mostly as a guys-night-out or large-party venue. Sure, a date might be impressed by the dramatically lit ceiling, which projects abstract cow-print patterns onto a canopy, but for the most part, this is a place to eat steak—a lot of juicy steak. If you roll in with five or six people, go for either The Ultimate Steak,a mammoth 8.6-pound beef porterhouse—or, if you're feeling extra-carnivorous, the $500 Ultimate Surf & Turf Dinner.

The latter is 120 ounces of porterhouse laid out family-style, with sidedishes in rustic iron bowls and plenty of steak sauce. Coupled with this, on a platter large enough for a Thanksgiving butterball, is your choice of King Crab, Jumbo Shrimp Scampi or Maine Lobster Tail Thermidor.

The greatest part might be how it's served: on a giant wooden Lazy Susan.

After all, you didn't come here to work.