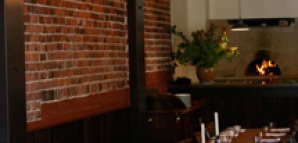 Few things can lure you across the bay.
But whole animals roasting in an eight-foot fireplace is one of them.
Camino
("fireplace" in Italian, and "car-truck" in American), which opened last night in Oakland, is the result of 20-year Chez Panisse vet Russ Moore and Allison Hopelain's (ZuniCafé) understandable desire to return to the technique of cooking whole animals—as big a pig or as small as a sardine—over open fires, just like the cavemen did it.
Start at the bar with a
Foret Saison Ale
or a cocktail developed by bar man
Thad Vogler
. Then settle in at one of the 30-foot redwood-topped communal tables, where you'll notice large cast-iron chandeliers that could've been lifted from an Italian castle, a wood-fired oven and a huge stone hearth(complete with an animal or an animal part dangling by a string inside).
The well-edited menu (five apps and three entrees) changes daily based on which animals Chef Moore can get his hands on, but typically you'll find succulence like
Grilled and Braised Goat with Artichokes
or
Sardines with Lamb's Quarters and Potatoes
, which go down well with a glass of '06 Domaine Chiroulet.
Not exactly caveman fare—after all, we've made
some
advances.