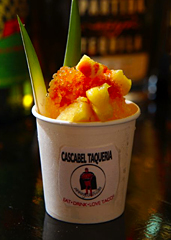 It was never our intention to leave you giftless on Cinco de Mayo.
It just sort of happened.
So today, let us begin the healing process with a peace offering.
One that's both sincere... and supersaturated in silver tequila.
Introducing
Takeout Tequila Snow Cones
, a mezcal-drenched version of the famous shaved-ice treat that's improbably being served in to-go cups, available now at Cascabel Taqueria.
Yes, what you're looking at here is the street-legal, gourmet spiked slushie that's poised to become the drink of choice this summer for lazy, hazy sidewalk strolling. Also, an elegantly refreshing solution to the brown paper bag.
To meet your new agave-based walking partner, you'll need to first make a sojourn to the Upper East Side. There, well, you'll find a whole lot of bars and restaurants. But only a single brave/innovative taqueria that'll serve you an Espolón-flushed
Limon Snow Cone
with pasilla pepper sprinkles for the road.
Now, despite this being intended as a vessel for mobile tequila consumption, there's very little that's inconspicuous about any of these six flavors. So if you're planning on bringing something like the chocolate-flaked, cinnamon-stick-garnished
Mexicano
back to the office during lunch, you may need a diversion.
We're thinking mariachi band.