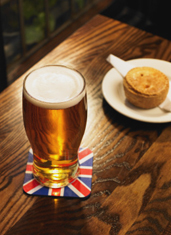 Some of your fondest culinary adventures have occurred upon foreign soil.
Lamb feasting with Miss Spain in Madrid. Bratwursting in Munich with the St. Pauli Girl. Hot Pockets at 3am with a female Canadian Mountie (ah, Edmonton).
And now: gin and crumpets in Kendall Square...
Presenting the
British Consulate Pop-Up Dinner
, your chance to dine like the Brits on UK-owned soil—courtesy of the culinary muscle behind Garden at the Cellar—taking reservations now for next Friday and Saturday in Cambridge.
This is the kind of dinner you'd take Pippa Middleton to, assuming you were able to lock a first date after waltzing with her at the royal wedding (nice work on getting that invite from the queen over Facebook, by the way).
So picture it: you'll enter the consulate and settle into cocktail hour in the parlor area over passed apps and drinks made with Berkshire Mountain Distillers gin.
Between your cocktails and your live tweets, you'll listen to a live string quartet perform a mix of classical British chamber music and Led Zeppelin–style jams ("Kashmir" requests, yes; "Stairway," also yes).
From there, you'll embark on a
sprawling five-course feast
of Hugh Grant-y delicacies like
Seared Foie Gras and Crumpets
,
Earl Grey Smoked Duck Bangers
and
Sticky Toffee Pudding
. And you'll wash it down with pints of Pretty Things ale, all in an atmosphere that's technically another country.
You know, Cambridge.