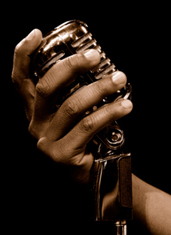 The mariachis were out in full force last night.
And the tequila...
Which got you thinking that you need more live music and spirits in your everyday.
Welcome
Brick & Mortar Music Hall
, a new upscale live music club pouring strong cocktails and serving informal bar food, now open in the Mission.
Given that it's in the old Coda space, Brick & Mortar will continue the live music legacy—but this time with less of a jazz and supper-club vibe. Instead, you'll drop by for cocktails and a loose interpretation of the kind of anything-goes music club scene you might find in Austin—anything from underground hip-hop to Brazilian tunes.
Depending on the band, the setup in this exposed-brick and timber-ceilinged space could go from indie-rock den to a warehouse concert. So you might find yourself sitting at one of the tables in front of the newly expanded stage or up on your feet in that same space, but with the tables cleared to make room for a dance floor.
And since the owners are partners in the Independent and run Oakland's New Parish, they've got the connections to bring in big names for spontaneous secret shows (think: Lauryn Hill, Chris Robinson or even Dave Chappelle).
We may have already said too much...