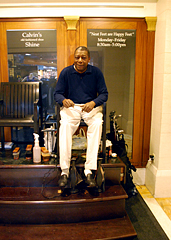 Prediction: we're going to start seeing your full arsenal of dress shoes soon (thank you, spring). Which means shoe shines. Enter
Calvin Mills
, owner of Calvin's Old Fashioned Shoe Shine and a 22-year veteran of the shoe-shine game. He took a moment away from the brushes to talk with us about shoe etiquette, famous patrons and the golden era of Boston shining.


UD: Let's get right into it: what's the number one rule for someone coming in for a shine?
CM: Simple. Don't come to me with extremely dirty shoes. I clean them before each shining, but when someone walks in with mud and dirt all over them, I'm just like, "What am I supposed to do with these?"
UD: Best type of shine to get?
CM: The Executive. It's a quick clean, but then I shine with a good Meltonian cream, which gives it a good shine, then I use Lincoln wax to keep the shoe leather very soft.
UD: Nice. Any famous people ever sit down for a buffing?
CM: I've had a few. About 15 years ago, I did Muhammad Ali's and Joe Frazier's shoes. Ali was nice. Very quiet though. Did Nolan Ryan, too.
UD: What's the best time to show up during the day?
CM: Well, you can come anytime, and people can always drop their shoes off to be cleaned. But the best time is probably first thing in the morning, after 7:30am. Less people waiting. Busiest time is between 11am and 2pm.
UD: What's your average shine time?
CM: Most take between four and five minutes. But I can usually do a great shine in about three minutes.
UD: What are those loafers you have on?
CM: Cole Haan Bragano, the only shoes they make in Italy. Doesn't even say Cole Haan, just Bragano.
UD: Best era for shining?
CM: '91 to '93 was a great time. At one point, I had several spots all over the city and it was great. Now I just have this one, which is fine, but it's been slow all around. Thankfully, I have regulars.
UD: What's the best gift or thanks a customer can give you?
CM: You mean other than a $20 tip?