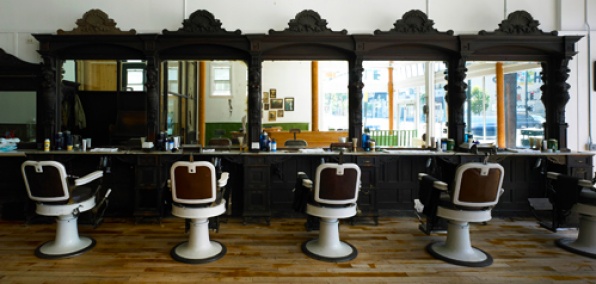 Some traditions stand the test of time.

One that makes the top of our list: not shaving yourself.

Allow us to present F.S.C. Barber and Freemans Sporting Club, an old-school gentlemen's club encompassing a circa 1920s barbershop and menswear outpost out of New York's Lower East Side, slated to open by Thursday on Valencia.

There's no storefront sign, so look for the barber pole on the corner of 18th and Valencia. You'll know you're in the right place when you see the row of seven vintage barber stations (chairs once frequented by Harry S. Truman) and the imposing original hand-carved mahogany backbar made for the Chicago World's Fair. In other words, you'll feel like you walked onto the set of Boardwalk Empire, or some Prohibition-era spot.

For now, the services are pretty standard—haircuts, trims and straight-razor shaves—but look for the Hangover Treatment (a hybrid hot towel remedy) to make its way to the West Coast shortly.

It's walk-in only—and naturally, they don't have wi-fi or flat-screens, so your gentlemanly entertainment options include reading an actual newsprint newspaper, getting a shoeshine or browsing the apothecary and the Freemans Sporting Club.

If you're familiar with the setup in New York, you know this is where to get made-to-measure suits and trousers from handcrafted heritage brands.

In case you forgot pants.