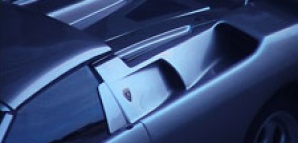 Mercedes, Lexus and Cadillac are fine for everyday driving, but when you're ready to cruise the Strip in a ride that will truly turn heads—the right ones—you have to up the octane, as it were.

Enter the automotive fleet from ultra-luxe rental company Eminence Luxury Services.

The crown jewel of Eminence's collection is a '97Lamborghini Diablo VT Roadster, affectionately called the Purple Beast by those lucky enough to have passed through her classic scissor-style Lambo doors. Like Eminence's Maserati Quattroporte, she is one of the few of her kind available for rent in the U.S. With a true manual transmission and 530hp from its 5.7L V12 engine, the Beast creates a sound comparable to a jet engine during takeoff and dusts even the current generation Lamborghini Gallardo Spyder(also available for rent).

Only 500 Roadsters were produced worldwide between 1996 and2000, the design intended for European roads, not so much the American stop-and-go. Vegas being situated with desert in every direction, happiness is an open road and a working radar detector.

True, these fine vehicles might bite into your expense account a bit more than a Honda Civic.

But some rides are worth a little extra grease.