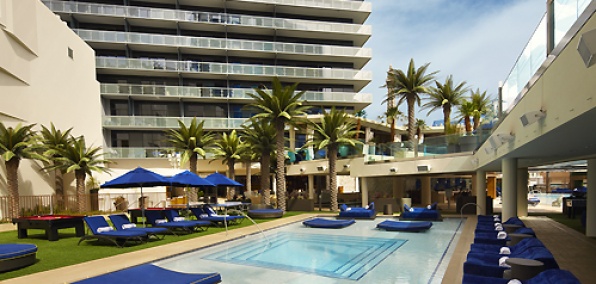 The center of the Strip has seen it all.

Rogue white tigers. Synchronized swimming competitions in the Bellagio fountain. Cher, at 60.

And now, your next high-stakes, Olympic-rules foosball tournament.

Introducing The Yard, an astroturfed area for all manner of bar-style recreation, day drinking and sports watching at the Cosmo's Boulevard Pool, now open.

Essentially, it's a basement rec room (including the Sports Illustrated swimsuit calendar) moved outdoors and overlooking Las Vegas Boulevard. Except instead of darts there are pairs of bikini-clad showgirls playing ping-pong, keeping track of Kobe's PPG and challenging any takers to a rousing game of Cutthroat.

So say that after commandeering the PS3 in your poolside cabana at the Cosmo, you've lost the NBA Jam title on a technicality. And settling the score requires more than a rematch.

You'll gather recruits (swimwear required), order a Peruvian Punch from the Tiki Bar and head over to The Yard. Claim a foosball table, choose teams—remember gender equity here—and decide on the buy-in.

Between rounds, you'll want to refuel with something from the Overlook Grill, so post up at a table, order pork tostados and watch whatever sport happens to be showing on one of the eight flat-screens (competitive spelling, hopefully). Just lay off the video games—you need to rest your forearms for the second foosball round.

Because it's all in the forearms.