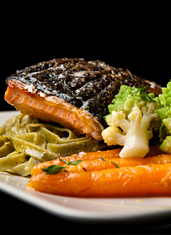 More often than not, you go to the chef.
It's just the way things work.
But sometimes it'd be nice if the chef came to you. With food...
Introducing
Munchery
, a site connecting you to an arsenal of professional chefs ready to make you dinner, on demand, for your home, taking orders in San Francisco now.
Since you've been on the business end of more than one Michelin-starred dinner, cooking at home tends to seem a bit... lackluster. And that's why you'll want to divide and conquer: you order (going as far as customizing your meal down to the garnish), they cook.
Once you set up your account, you can start browsing by chef—some own catering companies, others have restaurants like Burmese Kitchen—and menu (think: pot roast, lasagna, paella) with a "leave it to the chef" option if you want to be that spontaneous.
Essentially, you can order as much or as little as you want, and they won't mind if you mix and match chefs. So, until you develop a rapport with your favorites, you can order on a meal-by-meal basis or set up a subscription for a specific night that can be changed at the last minute if something else comes up.
Or you need to triple the order.