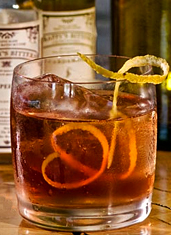 The Kentucky Derby. Memorial Day weekend. Seersucker Thursdays (it's a thing).
The summer party circuit is upon us. And, as per usual, you'll be hosting your share of gin-soaked blowouts.
Only problem: you've found that you can't mix your award-winning caipirinhas and entertain Sofía Vergara at the same time.
Solution: transporting one of the best bars in South Beach to your backyard...
Behold
Bar Lab Cocktail Catering
, now bringing the bartending maestros at the W Living Room bar to your next private blowout.
It works like this: you give the Bar Lab crew the basics—time, place, favorite drink add-ons (jalapeño, ginger... bacon). They get to work infusing spirits with your desired ingredients and devise a custom menu based on what you like. On event day, they show up with an antique wooden bar, housemade syrups and bitters, organic fixings (like fresh pomegranate, basil and cucumber) and top-shelf liquor, ready to mix anything from classic rum punch to the
Bittersweet
, made with pineapple-infused mescal and Campari. Oh, and glasses. 
And as a final touch, they source their ice by chipping away at a massive frozen cube.
You could also let them use yours.