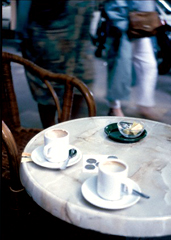 Today, we herald the arrival of a brand-new outdoor dining establishment.
That also happens to be the single biggest restaurant in the city.
Mostly because, well, it
is
the city.
Let us explain...
Introducing
Our Other Location
, a monthly pop-up restaurant where all of New York is your dining room, accepting reservations now for their May 7 event.
If you've felt there was a secret spot in the city that should be turned into a restaurant, this is the supper club for you: you're given the gourmet meal, table and chairs, and liberated to roam New York with the challenge of finding the perfect (or strangest) place to set up shop and dine under the stars.
The method: you'll purchase tickets to the dinner online, at which point you'll be privy to a clandestine pickup location. You'll show up to collect the necessary implements: folding table with chairs conveniently attached, table settings, camping cutlery and a three-course meal in a stackable Indian lunch box known as a tiffin.
From here, the entire city is your enchanting corner booth.
So you'll unfurl your cutlery sack/tablecloth on the High Line. Or, if you're feeling intrepid, perhaps on the Staten Island Ferry or in the lobby of the Waldorf. Finally, you'll sit down to a main course of Pigeon Pie (yes, real pigeon) prepared by Vandaag chef Phillip Kirschen-Clark.
Which might be enough of an adventure.