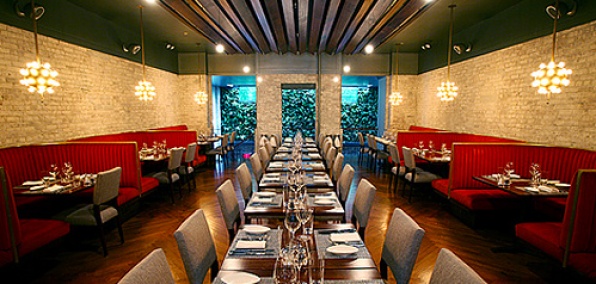 A brief history of legendary cameos...

1980: Kareem Abdul-Jabbar plays a copilot in Airplane.

1991: Vanilla Ice performs the "Ninja Rap" in Teenage Mutant Ninja Turtles II.

2010: You sit in at second chair for the New York Philharmonic.

2011: A Chinatown restaurant turns its kitchen over to a rotating cast of guest celebrity chefs.

Presenting Limited Time Only, a bi-level, revolving kitchen where visiting culinary masters spend their vacation cooking you dinner, opening next week and taking reservations now.

If this were a TV pilot, it would probably sound something like: Top Chef meets The Love Boat, but with more hog jowls and Wagyu.

You see, each month, week and potentially day, the executive chef here's going to be different. One night it might be an Iron Chef in town for a long weekend. The next it might be a French superstar trying his hand at sushi. So while you may always sit in the same booth, in the same mahogany dining room, you'll never utter these four words: "Give me the usual."

And that's fine. Because you're here to boldly go where no dinner guest has gone before. For week #1: a rogue 24-course tasting from a Beard Award winner, a paired drink menu from an out-of-town mixologist and, downstairs, a pre-Prohibition-style cocktail den where you can witness the birth of a few new bar snacks.

Ah, the miracle of birth.