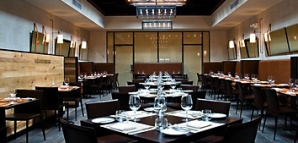 Between its indelible relationship to John Ritter and its crucial contribution to three-card monte and three-ways, we've always liked the number three.

So we don't feel too ridiculous in stating that sometimes the third time really is the charm.

Like with Scarpetta, the new upscale yet-not-too-upscale Italian restaurant opening Tuesday in the Meatpacking District.

This spot has had a pretty impressive history. First it was the Village Idiot, which we're sure you know. (Wait, we didn't mean it like that.) Then it became Gin Lane, which didn't quite have the staying power of its predecessor. Now it's Scarpetta, and we think we've got a match. The chef behind it, Scott Conant, was previously the chef-owner of L'Impero and Alto, so he's someone we like to have feeding us.

There's nothing crazy about Scarpetta; it's just one of those rare spots that's done right. The place is flush with white marble, nice exposed brick, a big skylight, that hulking dark wood bar and many mouthwatering home style Italian dishes—we recommend the Imported Calamarata Pasta with Mixed Seafood or the Duck and Foie Gras Ravioli. It's an oasis of class in the area, so going here to start your night is like an amazing last breath of fresh air before you head out to get dirty in the MPD.

Which we also like.