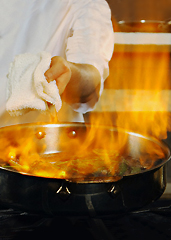 You've had endless debates about it.
You've gotten in more than one bout of fisticuffs over it. You've even contemplated not dating a model over it (we said
contemplated
).
And soon, one strain of the age-old NY vs. Boston debate will be decided. Over games of Beirut.
Presenting
Chef Louie Night
at Jerry Remy's, your one night of unbridled culinary cross-regional smackdown-ing, now taking reservations for a week from Monday.
Of course, the typical Chef Louie Night is something you're
well-versed with
(read: a crowd-chosen theme and menu, with passed apps and interaction with beautiful strangers). This time around, however, you'll be ushered into Jerry Remy's behind Fenway, where their (NY-bred and raging Yankees fan) chef will face off against the chef from L'Espalier (call him Team Boston).
Once the menus are chosen (the specifics are under wraps, but know that Remy's enormous iron smoker will be involved), you'll be treated to a massive family-style dinner from the two chefs. Then, you'll vote on the winner while watching behind-the-scenes buffoonery up on the monster flat-screens (think: chefs prepping in animal costumes).
After dinner, you'll keep the party going with dessert, some other notable chefs co-partying with you (from Toro, Garden at the Cellar) and even rounds of Beirut until the place closes.
So, you know, another typical Monday.