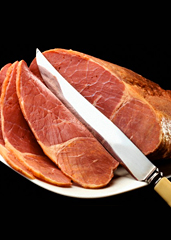 It's the hardest decision you'll make all day.
Dinner.
Constitutions are written with less thought.
So in the spirit of giving (and Mondays), we thought we'd lend a hand.
And set up a weekly delivery of heritage pork that'll keep you covered till July.
Feast your eyes on
Flying Pigs Farm's Pork CSA
, an upstate source of rare-breed swine that's prepared to hand you over a whole hog, one delicious piece at a time, now accepting memberships.
Prepare for the heartwarming fulfillment that comes from adopting a beautiful bundle of slab bacon joy. As a charter member in this pork-centric CSA, you're entitled to an entire pig (the same kind that's supplied to Gramercy Tavern and Blue Hill), delivered in pieces over 10 weeks. (Sort of like an edible Ken Burns miniseries.)
Every Tuesday, a cooler will arrive filled with a different collection of four prime hunks (think ribs, butt or kielbasa), along with a detailed set of cooking instructions. Consider this required reading.
And because you just can't trust your doorman around an osso buco, the weekly handoff of your choice cuts will take place at either Back Forty or Telepan. So you'll stop by after work and congregate with your fellow hock brethren to discuss the ancient art of braising.
It's the can't-miss sausage fest of the season.