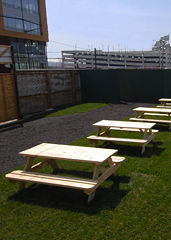 A night of baseball in view of the Capitol dome. It's as American as Brooklyn Decker, congressional demagoguery and that hot dog vendor with the stars and stripes bandana.
Yet you wouldn't object if the whole ballpark experience suddenly got a little more...  Bavarian.
So say hello to
Das Bullpen
, opening tomorrow night for the Nats-Phillies game to give your beer and sausage consumption that Central European quality it's been missing.
This is exactly the kind of place where guys named Klaus and Dieter would hang out pregame (before they ask you to explain the infield fly rule). And the space won't seem totally unfamiliar. That's because it's from the same folks who brought you the après-game spot The Bullpen down the block.
Only a few hundred feet from the centerfield gate, you'll wander under the giant white tent, dotted with dozens of picnic tables. Your stops under that tent will serve two purposes: first, to grab one of their seven European beers on tap; second, to secure one of the knockwursts, kielbasas or brats being grilled to order at the other end of the bar. Your sustenance safely in hand, you'll take a table on the grass, looking up at the centerfield stands.
On non-game nights, they'll rent out the whole space (useful for your next polka party). They also plan to invite several food trucks for regular street-food summits.
Say danke.